Although Cathie Bleck is well known for her intricately detailed fine art works, she continues to create powerful yet simple works in black and white scratchboard, as well. Her process of building upon the board with inks and clay and then scratching away at the surface with a razor sharp tool in order to create these pieces is so interesting, and it's amazing to realize the amount of work that goes into each one.
See below the images for more details on Cathie's process. Click here to view more of Cathie's amazing work.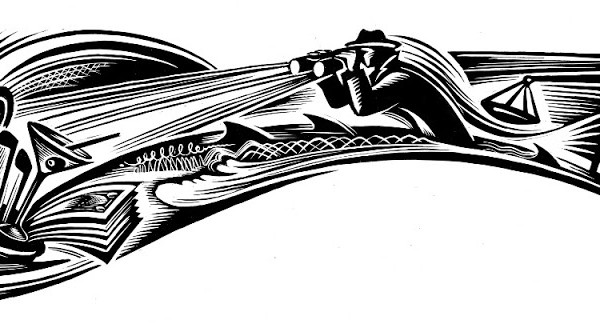 Cathie Bleck – header for The New Republic website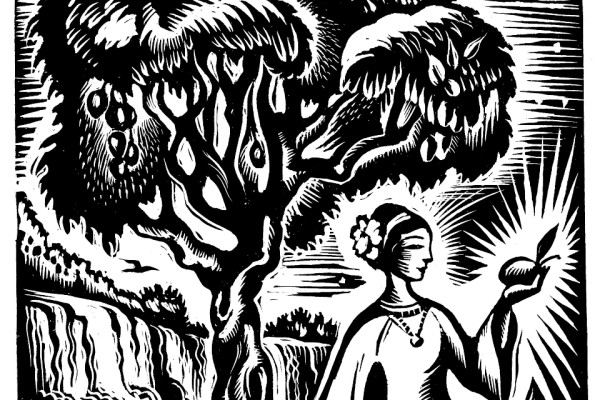 Cathie Bleck – "Mango" for Good Earth teas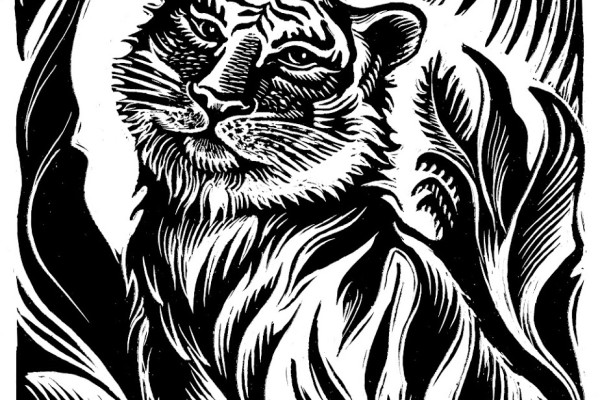 Cathie Bleck – "Tiger" for Good Earth teas
Scratchboard Process – From Cathie's website:
by Cathie Bleck:
I work on white clayboard; which is a board that has a thick coating of Kaolin clay, often making my own clay pigments. It is a relatively new art process though it's roots lie in some of mankind's earliest attempts at creating art. The Cro-Magnons scratched pictures into rock or bone to tell their stories. As a visual storyteller my goal is to connect in this context by carving into this natural medium of clay that has been formed at the bottom of lakes.

I work on two types of scratchboard. The works on paper are manufactured in England with a cardboard base. The clay boards, invented by Charles Ewing are coated on archival masonite and manufactured by Ampersand. Both types of board provide me a surface in which I can build upon with inks and additional clay prior to scratching them away with razor sharp tools. Recently, I have also been experimenting with the kaolin on papyrus and handmade papers.

The process of scraping the inks off of the clay is my favorite experience in creating the piece. It is a performance that celebrates the articulation of lines. The movement of my wrist and arm are rhythmic in nature not unlike a performance of a jazz musician or a dancers fluid movement.

The first step in my process is making a preliminary drawing in chalk or graphite. I usually transfer this to my board with graphite paper under the sketch retracing the preliminary drawing with a pen. This creates an indentation in the board and graphite image to serve as a guide. Next I paint with permanent colored inks prior to scratching. My preferred tool for scraping is triangular in shape with a fine razor edge and various razors. Recently, my works are much larger in scale (30"x60") and I have been getting beautifully crafted custom boards made by Ampersand with a birch trim cradle and back supports for stability. Upon completion of the piece I apply a coat of acrylic protective spray using the recommendation of a museum trained art restorer.