Cathie Bleck never ceases to amaze us, and she's at it again…and this time on a grand scale! She's been exploring dualities that exist in nature, and she's working on panels that are 50″ x 170″. She gave us a glimpse of her work in progress, and the photos give an idea of the sheer size of the pieces…they're massive!
See below for more info in her own words…
Cathie Bleck- Dualities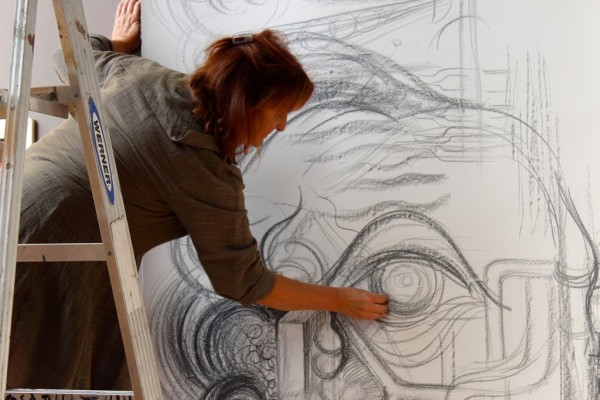 Cathie Bleck – Dualities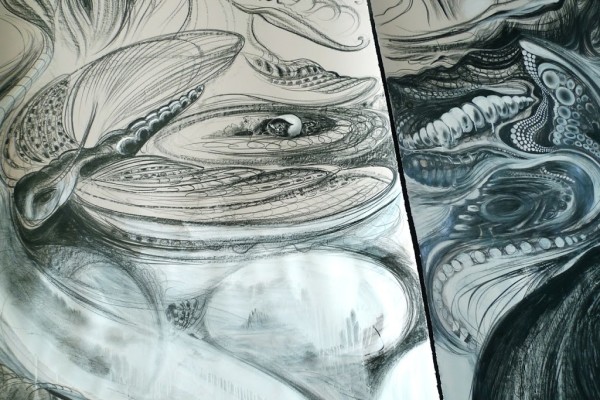 Cathie Bleck – Dualities, close-up
In her own words:
I began this large-scale visual journal in mid July this summer of 2011. In this project I wanted to explore the dualities that exist in nature and our evolution both past and present. Reflecting on the subject of where I left off from my Butler museum show in 2008 "Becoming Human", and wanted to additionally explore what would happen if I introduced forms which mimicked one another. In this first set of panels an unexpected image of a giant face of a cat or lion formed in the center when they were joined. Mysteriously, the image of the tiger or lion keeps resurfacing itself intuitively in other works as well. I am hoping to have these scrolls exhibited in a museum this year.


Each panel is 50″x170″ and is done on Stonehenge paper (100% cotton, acid-free buffered with calcium carbonate to help protect artwork from contaminated environments). This surface is proving to be durable and excellent with graphite, both pencils as well as powdered graphite mixed with water and additional liquid kaolin in the white areas.


The past is represented on the right panel where man has evolved rhythmically in unison with nature. The female figure sits at the bottom swallowed within the roots of the tree grasping beads, which are thought to be the first gifts of man to one another. Anthropologists believe that it was with these clay beads that man stopped killing trespassers to their territories. On the left panel, starting from the bottom reeds in the water weep below the explosions of our present time. The lone locust searches above the other locusts in search of direction. Evolving above the locust is ambiguity asking how will we evolve from this juncture as we lie in the eye of a broken world?