Being that most of us are getting ready for Thanksgiving festivities of one sort or another tomorrow, it seemed fitting to share this new piece created by Lucie Rice. It's pretty much Thanksgiving in a nutshell, and we hope you like it! HAPPY THANKSGIVING!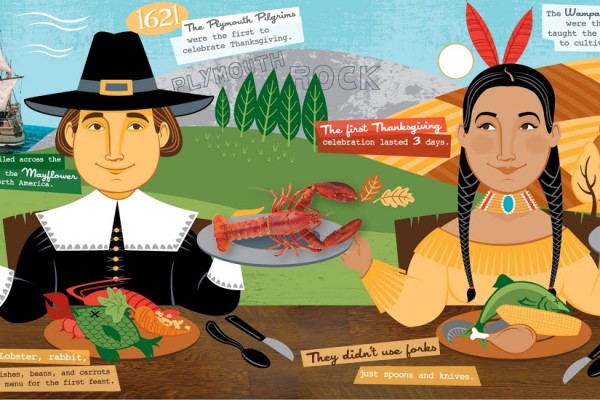 Lucie Rice – A Brief History of Thanksgiving
In case you're looking for a litte more info, here's Wikipedia's version:
Thanksgiving in North America had originated from a mix of European and Native traditions.[1] Typically in Europe, festivals were held before and after the harvest cycles to give thanks for a good harvest, and to rejoice together after much hard work with the rest of the community.[1] At the time, Native Americans had also celebrated the end of a harvest season.[1] When Europeans first arrived to the Americas, they brought with them their own harvest festival traditions from Europe, celebrating their safe voyage, peace and good harvest.[1] Though the origins of the holiday in both Canada and the United States are similar, Americans do not typically celebrate the contributions made in Newfoundland, while Canadians do not celebrate the contributions made in Plymouth, Massachusetts.[2]