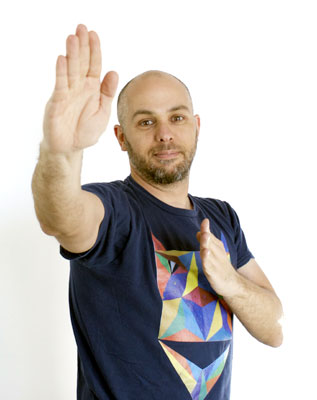 Charles Glaubitz is a native of Tijuana, born in 1973 to a Mexican mother and an American Father with German roots. He grew up in Rosarito Beach looking and surfing the beautiful pacific ocean as well as break dancing, bmx, freestyling, skateboarding and reading American super heroes comic books. He lives in Playas de Tijuana.
He received his BFA at the California College of the Arts in San Francisco in 2001, and has exhibited  in the Mexico, United States, Madrid Spain, Paris France, Hamburg Germany, Strange New World: Art And Design from Tijuana at the Museum of Contemporary Art in San Diego, Museo Carrillo Gil Mexico City, Museo Zapopan Jalisco, Oceanside Museum of Art, El Cubo Museum of Art Tijuana, Mexico.
His illustrations have appeared in Rolling Stone Magazine, San Francisco Chronicle, New York Times, Texas Monthly and Variety Magazine among others. His recent client include Sony Playstation, Jose Cuervo, Miller Lite, American Airlines. His work has been recognized by American Illustration, How Magazine, Print Magazine, 3×3 Magazine.
He was awarded the 2005 Young Creators Grant from FONCA, the Fondo Nacional para la Cultura y las Artes, México. And was awarded in 2013 and 2019 SNCA (Sistema Nacional de Artes Y Creadores) Graphic Narrative Grant and recently was awarded also from FONCA.