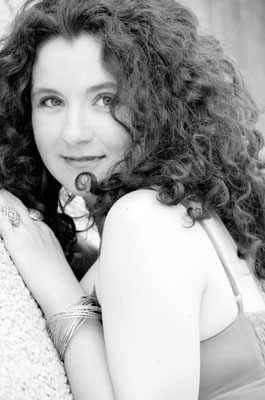 Mariya was born in Magadan, a small town in the far, far Northeast of Russia, but since 1996 she has been living in Montreal, Quebec, in much friendlier weather conditions. Mariya began her artistic carrier when she was about two years old. She drew mainly on wallpapers of her room, mostly beautiful princesses and fairy tale birds with very long tails.
Later, after graduating from the Graphic Design program at Université de Québec à Montréal, Mariya started to work as illustrator and graphic artist. She creates whimsical modern lifestyle illustrations. She loves Aubrey Beardsley, Alphonse Mucha, Erté, Gustav Klimt, and William Morris. She finds great inspiration in Art Nouveau and Art Deco with its capricious ornaments and wavy flowing lines and its somewhat exaggerated search for perfection and beauty. Mariya combines the purest graphic elements with ornamentalism of Art Nouveau. When creating characters for her illustrations, Mariya tries to imagine a story, a dialogue, and a certain emotion that her girls, boys and birds live in and experience in their present moment.
Mariya has worked with various Canadian magazines and newspapers, such as Elle Fille Québec, The Mirror Montreal, and Clin D'oeil Magazine. You can see her fashion illustrations in Essential Color in Fashion Illustration by Maomao Publication, Spain and The Great Big Book of Fashion Illustration by Martin Dawber.