In honor of Asian American & Pacific Islander Heritage Month we are highlighting our remarkable illustrator, Joel Nakamura. Read on to learn more about the artist and his work: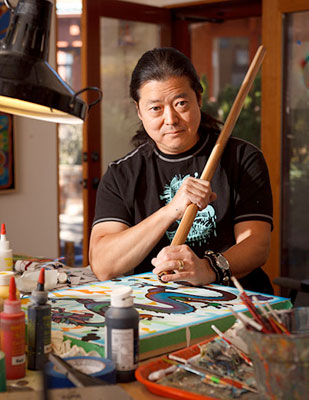 When and why did you start a career in illustration?
My professional career started in 1982 upon graduating from Art Center College of Design and Illustration. My first assignment was for a biker magazine, and my mom had a copy of it displayed on the coffee table.
Who and/or what has been your biggest influence?
Museums and books have had a profound influence on me. My parents both being art educators exposed me to museums all over the world. They also had an extensive library of art volumes. We went to every exhibition in Los Angeles. My favorite museum in the world is in Santa Fe,NM the Museum of International Folk Art.
How has your style evolved over the years?
I maintain my signature modern Neo-folk art style,
But I am always experimenting. In addition to the Neo Folk style. I also am known for my Japanese Pop style.
What are some of your favorite commercial jobs you've worked on?
It was an honor to get to do work on the 2002 Winter Olympic programs in Salt Lake City Utah. I have enjoyed every project, and try do give every one my best effort. I love a challenge to solve a problem or communicate a difficult concept.
How do you see your work being used in today's world?
My work is about ideas, irony, humor, spirituality,
happiness. All of these concepts are something that our society needs more.
I noticed a Japanese stamp used as a signature on some of your work – what does it mean?
The stamp ( Hanko) is my family name Nakamura
in 3 characters. Nakamura means middle of the village, so there are a lot of us Nakamura's.
Originally, I got the stamp to use in my martial arts school where I teach the Japanese art of Aikido.
Aikido more than anything has helped connect me to my Japanese heritage. In the book the Zuni Enigma the author draws comparisons to cultural, symbolic, language of the Japanese and the Zuni Pueblo people. I have always been captured by New Mexico perhaps this is why I am drawn and connected to Native Americans of the Southwest.